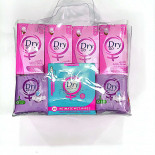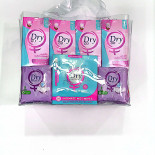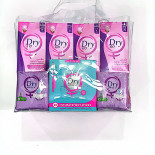 Fully Birth Bag
Fully Birth Bag is the complete protection for personal care in after birth period.
Fully Birth Bag

( 4 Dry post + 4 Dry Go + 2 Dry Maxi + 1 Dry Fresh Wash Flowers 200 ml + 1 Dry Fresh Wipes Flowers )
Dry with their products, integrated solutions with you everywhere
Fully Birth Bag is available in 3 sizes ( 2XL , 3XL , 4XL )
Dry Post
the No. 1 sanitary pads and the only one specially manufactured for postpartum cases, with a high absorption more than 120ml to protect you from heavy flows and heavy bleeding, with a soft cotton surface.
Dry Go
The first single-use sanitary underwear made of anti-bacterial fabrics that have ability to trap bacteria and fungi inside the fabric to protect you from vaginal infections during the postpartum period because the mother's immunity will be weak after birth and and the infection rate will be high
Dry Maxi
Thick sanitary napkins, suitable for use in the late postpartum period, because all the sanitary napkins for childbirth (Dry Post) have been used and the bleeding volume will be small, so we can use Dry Maxi after the Dry Post sanitary napkin. And also on the days of the menstrual cycle
Dry Fresh
: Wash and wet wipes for the intimate area. During the postpartum period, the mother's immunity will be weak and the possibility of harmful bacteria growing and causing unpleasant odors, so we start using Dry Fresh from the second or third day of the postpartum period because it is with natural Chamomile and flowers and balanced pH suitable for protection from any Harmful bacteria and helps the growth of beneficial bacteria and eliminate unpleasant odors
Add a review
Required fields are marked *